Technology
Samsung Gear S Review – All You Need to Know About Your Next Smart Toy
You can buy Samsung Gear S from here.
The Samsung Gear S became available to buy in the US and UK as part of a contract deal or as a standalone purchase on November 7th. Samsung has a wide range of smartwatches, some of which can be bought for under $200 although its newest addition, the Samsung Gear S, is priced at around $350. Of course, the Samsung Gear S can afford to wear a heavier price tag in comparison to its more basic cousins. What separates the Samsung Gear S from these older models is an assortment of fresh, useful gimmicks and features.


Design
When you have a piece of technology that is dubbed as being a smartphone worn around the wrist, perhaps the most inevitable dilemma its designers will face is how to make a product that isn't heavy, awkward or chunky and that will sit comfortably around a person's wrist. This has been one of the main gripes about smartwatches; as handy as they might seem, the bulbous designs and overly thick materials used on the straps have deterred some from investing in a smartwatch.
The Samsung Gear S faces similar problems. It is an improvement on former models with its sloping screen that matches the curvature of a person's wrist. Yet the heaviness of the straps and overall chunkiness of the device might prove too irritating for some; especially those who were planning on using the device whilst running, working out and so on.
You can buy Samsung Gear S from here.
Users can choose from two colors, black or white. Whichever colour you choose, the device is a statement piece of wearable technology. There is no mistaking it for a digital watch.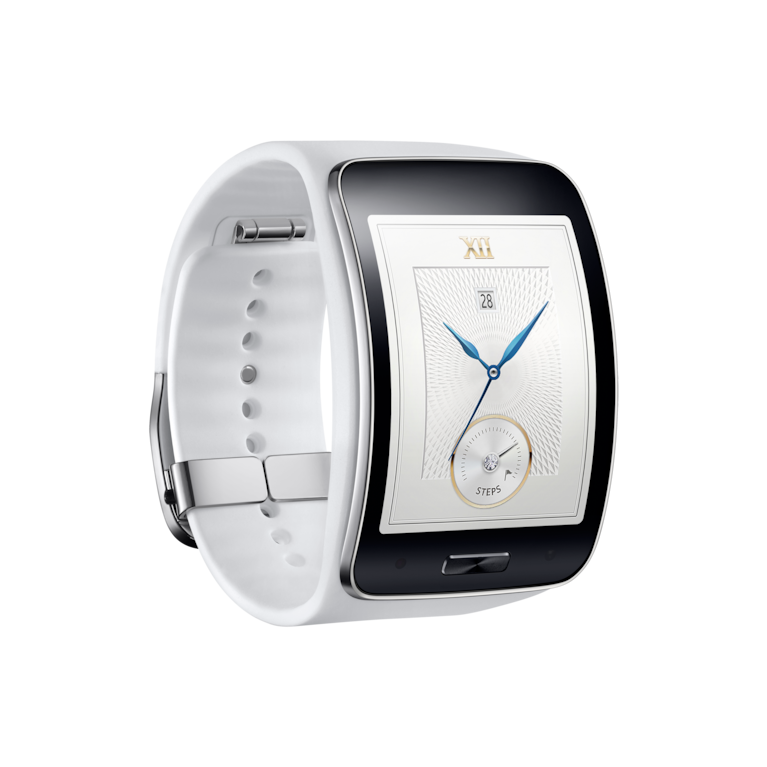 Features
The Samsung Gear S supports Wi-Fi, Bluetooth and 3G which means you won't need a smartphone in order to receive notifications; swiping left on the screen will bring you any notifications you might have. Certainly, it is easier to navigate your way round this Samsung model than previous ones. A swipe to the right will show you the list of apps you are using.
The bigger screen has also allowed Samsung Gear S to get a little more creative with the apps that can be used on it. Gone are the days of squinting at a smartwatch when trying to read a piece of news.
However, the smartwatch does have a relatively short battery life of two days. Yet the 4GB of internal storage, 512MB of RAM and ability to function as a heart rate scanner and UV sensor are redeeming qualities that might convince some to invest in the Samsung Gear S.


Apps
The Samsung Gear S comes with an extensive list of apps. Many of these apps have the fitness fan in mind. Nike+ is likely to be one of the most favoured apps amongst those who are planning to use the device to help them during workouts and runs. Simple features such as informing the user how much distance they have covered becomes that much better when all the user has to do is raise their wrist to check. The same goes for the attractive heart rate sensor feature. The device is sure to be embraced by gym goers and anyone who wants to access useful statistics concerning exercise whilst they workout.
Other apps that deserve a mention include Nokia's HERE Maps and the Financial Times' fastFT app. Nokia's HERE Maps will offer the wearer turn-by-turn navigation from their smartwatch; certainly handy for those visiting a place for the first time. The watch will even buzz every time you need to make a direct change.
You can buy Samsung Gear S from here.